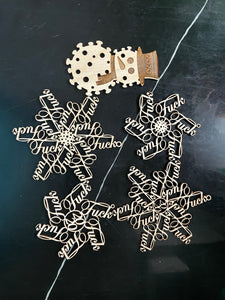 NewFoundFinishes
Snowflake and snowman ornament pre buy
Regular price
$8.00
$0.00
This is a pre buy for the f*ck 2020/coronavirus and coronavirus snowman ornaments.  Items will not ship for 1-2 weeks.  From November 6th-13th. Pre buy is just so I know how many of each style to cut. 


Ornaments are cut from wood and weigh about 8 grams each.  They may have a slight smell of burnt wood upon arrival, this smell does go away over time. 


coronavirus snowman is 4.5" tall
larger snowflake is 5" wide 
smaller snowflake is 4" wide
These will ship untracked lettermail unless upgraded shipping is purchased.  Orders of 8 or more will get upgraded tracking for free.